Framaroot v1.6.0 is a popular Android app designed to root various Android devices without requiring a PC. It offers a simple one-click button that allows users to gain administrator-level control over their devices.
Framaroot v1.6.0 can give users more flexibility with their devices, allowing them to perform tasks typically blocked by Android's built-in security measures.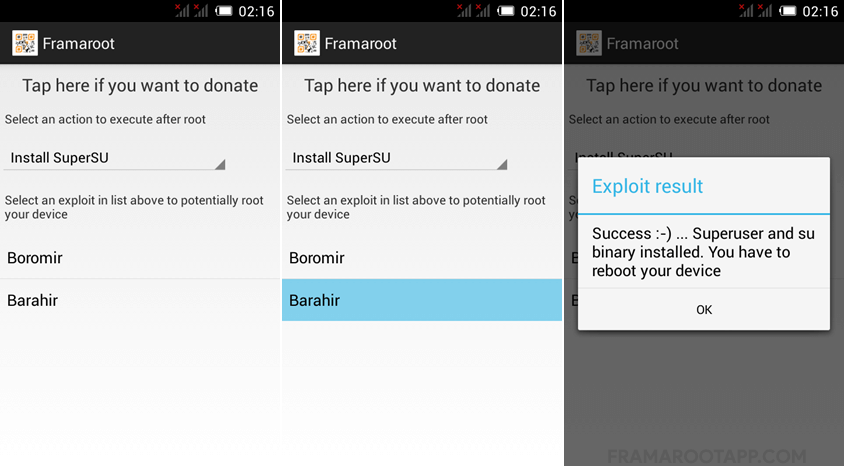 Framaroot v1.6.0 APK for Android Devices
Framaroot is a one-click rooting application for Android devices that allows users to gain superuser access, also known as root access. While rooting can offer various benefits, knowing the potential risks and consequences is important.
Here are some circumstances when you might consider using Framaroot or any other rooting tool on Android devices:
Customization and Personalization: Rooting grants you access to system files and settings, allowing you to customize your Android device extensively. You can install custom themes, change system fonts, and modify the user interface to suit your preferences.
Remove Bloatware: Some Android devices have pre-installed apps (bloatware) that cannot be uninstalled without root access. Rooting lets you remove or turn off these unwanted apps, freeing storage space and improving device performance.
Backup and Restore: With root access, you can use advanced backup and restore apps that can save your data, system settings, and app configurations. This can be useful when switching to a new device or recovering from a software issue.
Ad-Blocking: Rooting enables ad-blocking applications that remove ads from various apps and websites, providing a cleaner user experience.
Performance Boost: By rooting, you can use specific apps or mods that optimize device performance, such as CPU overclocking or tweaks to improve battery life.
Custom ROM Installation: Rooting is often a prerequisite for installing custom ROMs. Custom ROMs are modified versions of the Android operating system that offer additional features, improved performance, and updates not provided by the device manufacturer.
Access to Root-Only Apps: Some apps in the Google Play Store require root access to function fully. Rooting enables these apps, which can offer unique features and capabilities.
Download Framaroot v1.6.0 for Android Devices
| | |
| --- | --- |
| Name | Framaroot v1.6.0 |
| Type | One-Click Root App |
| Developer | Alephzain |
| File Name | Framaroot-1.6.0.apk |
| File Size | 2.02 MB |
| Version | 1.6.0 |
| Supports | Android 2.3 to 4.3 |
Frequently Asked Questions
What is Framaroot v1.6.0?
Framaroot v1.6.0 is a rooting application for Android devices that provides a one-click rooting solution, allowing users to gain superuser access to their devices.
How do I install the Framaroot?
You can install the Framaroot v1.6.0 by downloading the .apk file and installing it on the Android device. The installation process is quite similar to the standard Android App. You can follow the How to install the Framaroot page to install the Framaroot App correctly.
Is Framaroot v1.6.0 Free?
Yes. The Framaroot v1.6.0 is 100% free. It was available for users to download and use without any cost.
Is Framaroot v1.6.0 Safe?
Yes. The Framaroot v1.6.0 is 100% safe for the Computer, laptop, and Android mobile. It contains various Android Exploits which will be used to root the Android device.
Where Can I find KingRoot App?
If you're searching for the KingRoot App, which lets you root Android devices running on versions from 2.3 to 7.0, then you should go to the KingRoot website.